This week I'm joining Shelly and Katy for their monthly link-up Queen Bees: Women Inspiring Women series. In Katy's words, this link party is a place to "lift each other up and let someone know that you notice her, what she does, how she does it and you want her (and others) to know how special she is."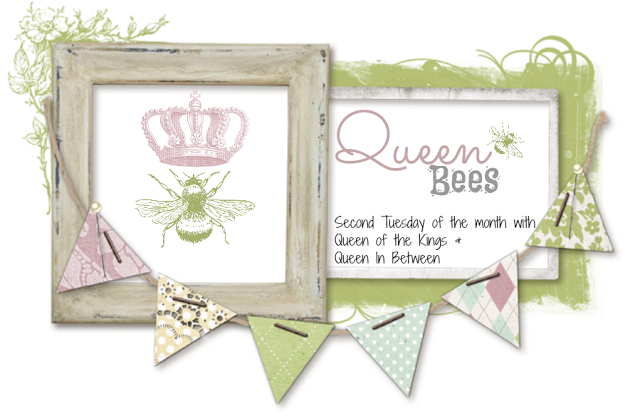 Since I started blogging, I have met so many amazing ladies! This community is so open, giving, and helpful! I love it! For my first Queen Bee post, I didn't have to think hard on who I wanted to honor. To be honest, I'm not sure exactly sure the first time I "met" Michelle from Grammie Time. If I had to guess, it was either a link-up or a comment she left for me. Michelle has a heart of gold and I love how intentional she is - with her words, with her actions, with everything that she does! She shares with us so much wisdom and on more than one occasion, the comments that she has left for me completely made my day. I recently asked Michelle a few questions so that you could get to know her too. She definitely is worthy of the title "Queen Bee"!
Tell us a little about yourself!
I'm a wife-married to my husband for 29 years; mother-to three grown daughters; Grammie-to two adorable grandchildren; transitional kindergarten teacher-I teach at a Christian pre-school. Those are the titles I wear daily. I'm a health/fitness nut, eating whole foods, and love cooking by scratch. A fan of happy hours whether it be with a cup of tea or a glass of wine and I read a book a week. Now I enjoy writing! I am in my fabulous fifties and loving it.
How long have you been blogging and what was/is the inspiration behind Grammie Time?
I always had a passion for writing. Not knowing where or how I was going to explore it, I just knew I wanted to write. Having a space of my own where I could get out all that goes on in this head of mine. Now that my children are grown, I have a bit more time on my hands and I kept asking myself, "what do I want to do with this extra time?" My daughter was the one who suggested I write a blog and my grandchildren were the inspiration behind the TITLE of the blog. You see,
whenever we are together I always say, "It's Grammie time." What that means in my mind is; drop
everything and give Grammie all your attention. In their minds, what did you bring me today, Grammie, or what crazy things are we going to do together? No matter what it means, or what we do, it always ends with the word, "time." That is how it all began actually, with just those three words-in January, 2015. Now I have a new title-blogger!
What makes you smile?
Family time, especially being a grandmother. Teaching and hearing a student say, "I love school." Encouraging others through the stages of life I've already walked through. A fine wine and dark chocolate certainly make me smile too!
Everyone has a favorite/least favorite post. Name yours and why?
Nothing brings satisfaction more than finishing a post and you get a feeling; that you put your heart and everything you had into it and it just feels right. I have a few posts like that. One in particular is Becoming A Confident Mother.
Years ago, as a young mother, I attended a bible study and was listening to an older woman speak on motherhood and she had so much wisdom to offer. I remembered thinking, I want to be that "Titus woman" when I'm older and encourage younger moms. While writing that post, I felt like I was doing that.
My least favorite - probably the first post I did as a review on a product. I was asked by a company and thought why not, I'll try my hand at it. I quickly discovered that is not what I want to write about.
What do you do when you aren't working on your blog?
Everything else I'm SUPPOSE to be doing; cleaning, cooking, shopping, working, exercising, etc. I've noticed since I began blogging, some of these things are not getting the priority they use to. Or I find myself rushing through them because of time.
What is your favorite store to shop at?
I'm not a big shopper. The one store I enjoy stopping in just to browse even if I don't buy anything is Pier 1.
What advice/words of wisdom would you give your younger self?
I ask this exact question in my Connect With posts that I do once a month with others on my blog. Now I get to answer it myself. I would tell my younger self to not worry about tomorrow, just live in the moment and enjoy what is right in front of you today. I was always looking ahead, thinking things would be better somehow so I didn't always enjoy the day to day moments.
Who are a few of your favorite bloggers and why?
Oh, this one is hard for me to answer. You see, I don't like to play favorites because I don't want anyone that's reading to feel bad that they are not a favorite. I will say this, I enjoy reading blogs that help me want to be a better person. Blogs that help others, encourage, inspire and most of all, that leave a mark long after I finish reading. Just like a good book or a great sermon.
What inspires you?
Words inspire me...passages from the Bible, quotes, a great novel. Even ordinary people that do or say extraordinary things everyday give me inspiration.
Michelle, I think you are extraordinary! Thank you for being a Queen Bee and for sharing your heart with all of us!
I hope you'll stop by
Grammie Time
and get to know Michelle better. She's pretty amazing if you ask me!
Have a fabulous day! Gig 'em and God bless!



and come back tomorrow for the Waiting on...Wednesday link-up -

a place where you can link up what you are waiting on, going through, making, anything - as long as it's family-friendly! :)
Be sure you check out my FAVORITE link-ups
page
to see where I'm linking up today. Stop by and show them some love! :)