You're about to see a week of smiles but I promise you, behind the scenes were many, many tears this week. While I know many people want to hear the good and the bad, I choose to focus on the smiles, the happy moments, the times I don't want to forget. Just know - for every smile you see, the are hard times and hard days and, well, parenting isn't for sissies! Here's a glimpse into what I did this week while I waited...
Holden was dressed and ready for Monday ballet and was super excited to carry the bag I ordered her from
Shutterfly
. They sent me a code for a free bag (I just had to pay shipping) and I was beyond pleased with the quality! These would make awesome Mother's Day gifts for grandmothers!
Tuesday evening and all day Wednesday, I was in a meeting as our ISD prepares for our district to eventually have 25,000 kiddos. It was eye-opening to say the least! (And, it's also been a LONG time since I've sat in meetings that lasted that long!)
Emmy and Landry came over to play on Wednesday!
I could sit and listen to these three talk all.day.long! Precious, precious girls!
Emmy is deathly afraid of Maggie so we put Maggie in her kennel while the girls were playing. We caught Mini on top of Maggie's kennel giving her "love taps". Doesn't Maggie look so excited? Poor Maggie! :)
An absolutely gorgeous day on Thursday and no homework for Holden meant these two were soaking up the sun!
Friday we met a couple of friends at the park for a picnic and lots and lots of swinging!
Friday night we celebrated
Katy
's birthday with a little wine and lots of laughter!
Saturday was a big, BIG day for Ms. Hope! She scored her very first soccer goal of her career! She was over the moon excited!
Holden wrapped up her basketball season and was surprised with a visit from Dede and Pop Pop!
Colby was gone all day Saturday at a merit badge event so all afternoon the girls made mud donut holes and mud pies!
After church on Sunday, I really, really wanted to take a nap... ever feel like someone is watching you?! This was my view till I finally convinced them they should have a little "quiet" time too! #JesussaidrestonSunday
When I woke up from my fabulous little nap, I could hear the swing in the backyard. Hope could swing for hours!!! Oh, and notice she's in summer clothes? Just another reason for the big toothless smile! This girls can't wait for summer to get here!
I mentioned in the beginning of my post that this week wasn't the best. Without going in to detail, I can tell you that God wrapped His arms around me this week time and time again through my friends.
There is the one I call who can always talk me down from the ledge and will (eventually) make me laugh. Her ability to listen without judgement is a gift from God. I also know she is praying for me and that is a gift that I treasure.
There is the one I texted and said, "can't talk now but desperately need your prayers." Her reply, "Yes. Yes I will. I love you." and then she texted later that evening to let me know she was thinking about me. Her text was a gift from God.
There is the one whom I've never met in person but was willing to listen. She asked me the hard questions and when I didn't have the answers she pointed me back to Him. She messaged me the next morning to let me know she was thinking and praying for me. Her willingness to be there for me in a time of need was a gift from God.
There are the new friends who let me be raw with my emotions and don't think I've lost it. They remind me the doubts are straight from Satan and remind me of the Truth.
When times are tough, it's not always easy to feel Him near but this week, I was reminded that I'm never alone. If you are struggling, know that He just wants you to give it to Him. None of my problems are earth shattering but my friends knew that it was important to me so it was important to them. It's the same way with Him. He wants all our messy, sob filled days just as much as he wants the days full of smiles and laughter.
I'm so glad you stopped by! Here's hoping this week is a little better than last! ;)
and come back Wednesday for the Waiting on...Wednesday link-up - a place where you can link up what you are waiting on, going through, making, anything - as long as it's family-friendly! :)
check out my
FAVORITE link-ups
page
to see where I'm linking up today!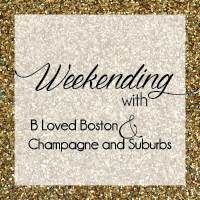 also linking up with Biana from
B Loved Boston
and
Meg from the
Life of Meg
the ladies from 100 Happy Days
Kate
,
Alison
,
Linzee
,
Elizabeth
,
Valerie
, and
Tiffany