Mike and I were completely kid free for most of last week! While it would have been lovely to take a little trip or even have a date night, we decided to use our time and spruce up a few areas of our house (and enjoyed lots of lunch dates!). This week's recap will include lots of behind the scenes pics of our progress as well as lots of food snaps (not sure what got into me this week!). One thing you won't see...pictures of our big kids! Ugh! Those stinkers haven't sent us a pic of anything since last Sunday! We've barely even heard from them! The great news is that they are having a blast, the bad news is I don't think they've missed us. At.all! Anyway, here's what I did last week while I waited...
Hope was at my parent's house and enjoyed her favorite snack after her first day at swim lessons!
Once Mike got home from work, it was time to start working on our projects! First things first - empty each space of all its stuff! Sadly, this mess only got worse as the week progressed!
Hope's day looked a lot like the day before too! Except this day included extra whipped cream!
Our Tuesday afternoon and evening looked a lot like this...
Shelly
and I were so bummed that we couldn't hang out. But, what does an awesome BFF do? She brings you dinner! She's the BEST!
Speaking of best friends...Mike's best friend from childhood asked Colby to go to the Giants game with his kiddos on Wednesday night. Colby said it was "awesome"!
He's real big into one word texts... :/
How to Train Your Dragon
. Now I can't help but think about that every time I look at her!
Thursday evening we took a break from painting and enjoyed a fun dinner with friends. So fun that I didn't take one.single.picture! We had planned to go home and paint a little before turning in but ended up relaxing on the couch and watching the first two episodes of Friday Night Lights.
t-shirt!).
Here are a few before/after pics of the areas we were working on...
It's hard to tell but we painted the ceiling, all the trim work, the doors, the cabinets and the walls. We also replaced the light fixtures and switched out the fixtures from brass to chrome. We are about 90% completed. The walls and trim were, what I like to refer to them as, the color of masking tape. It's the original paint colors from when we moved in over nine years ago. The trim is now white and the walls are different shades of gray. Words can't begin to say how awesome it feels seeing these spaces. We've still got a long way to go but at least we're making progress!
And as I was finishing up this post, I was watching my Aggies lose their Super Regional game. Now you'll find me rooting for the Horned Frogs at the College World Series. Heck, if we can't beat them we can at least say we lost to the (hopeful) National Champions, right?!
Colby and Holden will be flying home Monday evening. YAY! If you would, please say an extra prayer or two for safe travels. This mama has really missed them and can't wait to get them home!
I'm really glad you stopped by! Have an extraordinary week!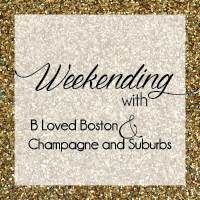 also linking up with Biana from
B Loved Boston
and
and the ladies from 100 Happy Days
Kate
,
Alison
,
Linzee
, and
Valerie